The Difference Between orderId and invoiceId
If you've installed our AnalyticsConnect.io software that automatically posts sales data from Infusionsoft into Google Analytics Ecommerce, you may be getting confused between orderid and invoiceid.
Infusionsoft uses two variables that many users, and some developers think are the same thing. These variables are orderid and invoiceid. Adding to the confusion is that in some Infusionsoft accounts, orderid and invoiceid are set to the same number. However, in most Infusionsoft accounts orderid is set to one number while invoiceid is set to another number.
You can check your Infusionsoft account by doing the following: From inside your Infusionsoft account, navigate to "E-Commerce" and click on "Orders". Click on "Columns" to "Customize Columns on Search Results". Make sure you've got "Order id" and "Invoice id" inside "Custom Columns". Then run a search. You may see that orderid and invoiceid are set to the same number, or more likely, you'll see something like the below result.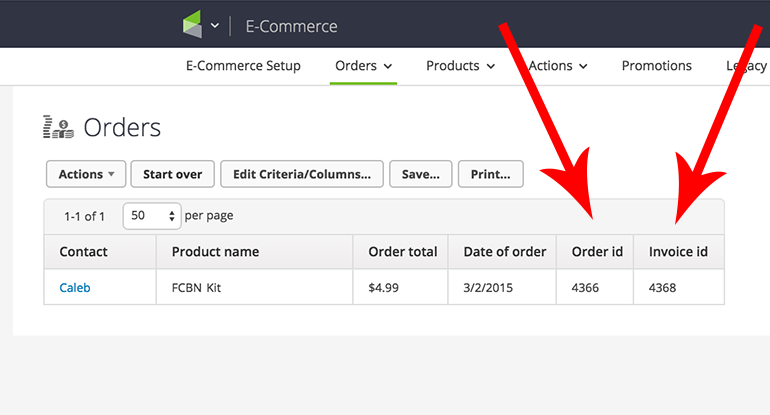 Also note that when AnalyticsConnect.io writes orderid to Google Analytics, it appears inside your Ecommerce reports as "Transaction ID".
Related Resources
None
Article Feedback
If anything here is incorrect, outdated, or omits critical information, please use our contact us form and let us know.