Google Analytics Secondary Dimension Button
If you've installed our AnalyticsConnect.io software that automatically posts sales data from Infusionsoft into Google Analytics Ecommerce, you will want to learn how to dive deep into your data with the Google Analytics Secondary Dimension Button.
Let's say that you wanted to know the Source / Medium responsible for each individual sale. From inside Google Analytics, click on "Reporting" at the top of the menu. Then click on "Conversions" then "Ecommerce" and then "Sales Performance". You now see a list of all your transactions. To add the secondary dimension of Source / Medium to the data, find the "Secondary Dimension" button that will look similar to the below picture.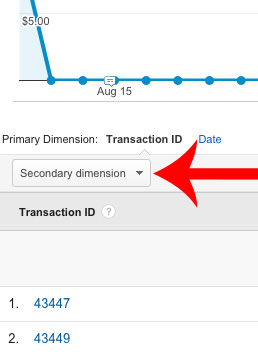 Click that button, then click "Aquisition" and select "Source / Medium". You will see the additional data added as a column to the right of "Transaction ID". You now know where your most valuable sales are coming from.
It's important to understand that this secondary dimension button is available throughout your Google Analytics account. As another example, we could have selected the secondary dimension of Gender with our transactions to see which gender is bringing in the most sales. To do this, from the secondary dimension button, select "Users" and then "Gender". We recommend taking a few minutes to read through the options listed under the secondary dimension button, so you know what's available.
Related Resources
Setting Up Demographics Tracking
Article Feedback
If anything here is incorrect, outdated, or omits critical information, please use our contact us form and let us know.