Show Hostname Inside of Google Analytics
If you've installed our AnalyticsConnect.io software that automatically posts sales data from Infusionsoft into Google Analytics Ecommerce, you may have noticed that you're only seeing the request URI in the content reports of Google Analytics rather than the full URL, which makes it difficult to distinguish between your main domain and the hosted Infusionsoft pages you're tracking. As an example, hits to the following pages:
http://www.example.com/products
http://aa001.infusionsoft.com/app/manageCart/showManageOrder
Will show in your reports as:
/products
/app/manageCart/showManageOrder
You can add the secondary dimension of "Hostname" to your reports so you can see the difference between your main website and the hosted Infusionsoft pages you're tracking. From inside Google Analytics, go to "Behavior" under the "STANDARD REPORTS" section. Then click on "Site Content" and then "All Pages." Click on the button under the graph that says, Secondary dimension and select "Hostname" under "Behavior" as seen in the below example picture.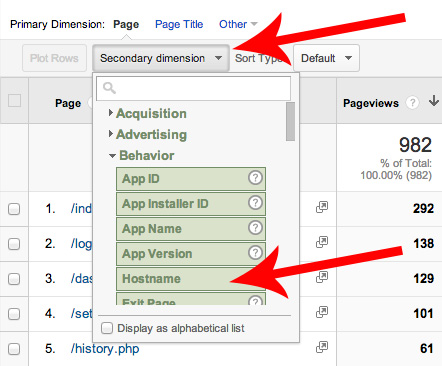 After clicking that, the report will be redrawn to resemble the below picture.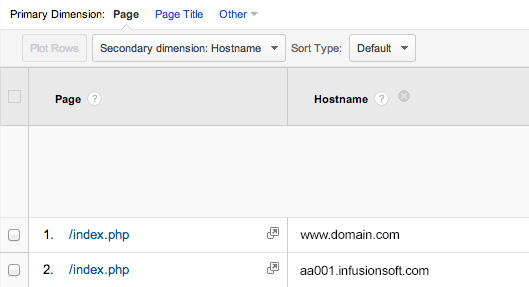 Related Resources
Tracking Page Views On Infusionsoft Hosted Pages
Article Feedback
If anything here is incorrect, outdated, or omits critical information, please use our contact us form and let us know.